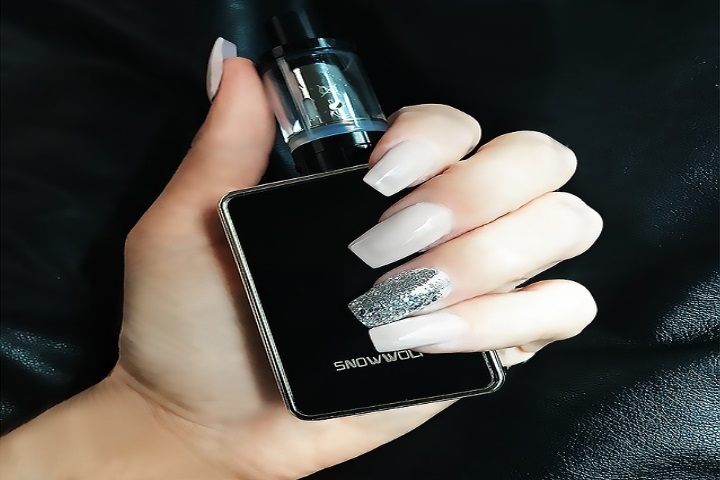 I will be get paid a commission for purchases made through links on this post.
Gelish vs Shellac
So you've probably heard all about Shellac, so what about Gelish? Gelish is also a gel-polish made by Hand and Nail Harmony. Both Shellac and Gelish are applied like polish from polish bottles and are cured under a UV Lamp. Neither requires filing the nails surface before application and both are removed by soaking in acetone. Both Shellac and Gelish are Formaldehyde, toluene and DBP free so contain no nasty chemicals.
Which is safest, Gelish or Shellac?
There is a common line of thought that Shellac is better because you don't buff the natural nail beforehand, therefore you aren't damaging the natural nail. This is not correct! Gelish only advises a light buffing off the nail surface not filing, which doesn't harm your natural nail whatsoever as long as it is done properly! If anything this is of benefit to the nail as it smoothes over the nail base, preventing it from flaking. This is of benefit to the nail as it smoothes over the nail base, preventing it from flaking.
Most UV gel products require a minimum of filing/buffing as it is removed by chemical acetone. When used properly acetone will not damage or dry out your nails or fingers.
Best color range, Gelish or Shellac?
Gelish currently offers 112 gel polish colors while Shellac is offering 40. The Gelish color range includes plain, glitter, matt, gloss and other special effects. Each color has a numeric ID as well as a descriptive name such as "Diva", "Go Girl", "Hot Rod Red" and "ShowStopping". The glitter polishes give a fantastic deep glitter effect which is really eye-catching. Both Gelish and Shellac manicures are able to have nail art added to the finish, there is a wide range of diamontes, gems & transfers that can be applied to the nail to give it a unique finish.
Which lasts longer?
Gelish advises a three-week manicure, while Shellac claims two weeks plus in their marketing. However this is just a rough guide, UV gel products can last different times for different people, it also depends on how skilled the nail technician is that is applying them.




Benefits Of A Gel Nail UV Light Dryer:
As a woman, there are certain things that I like to do to help spoil myself after a long day. Spending a day at the salon for some woman is like heaven on earth. It gives working women, mothers and other women who just need a break a chance to get away and pamper themselves. Having your nails professionally done by a salon technician can be a very relaxing experience. Your appointment can last anywhere from 40 minutes to an hour or little bit over and during that time it's just you relaxing. Not only are you getting them done beautifully, but you are also taking time to interact with another adult which is something we don't always get time to do.
At the end of the appointment, there are only a few things that can ruin your relaxing day at the salon. I know from personal experience that when the saloon technician puts the polish on and feels it with the last topcoat it takes forever to dry. There are different kinds of products that your nail technician may use for you. The most popular product that's been used in the salons is usually in the acrylic powder that your technician will mix with a liquid and shape around them.
UV Light Dryer:
However, their new options today when getting them professionally done. One option is fake fingernails made of gel. Gel nails are usually lighter and more flexible than the acrylic. Most salons give you a choice of which type of product you would like to use when getting them done. After your technician applies the final topcoat some salons have UV light dryers that will help your gel polish dry and seal faster than usual. In the salons that offer gel nails most will have a certain area designated for UV light dryers. It is usually an area with a desk or table is set up with several of these dryers for different clients to use.
When you finish your technician will ask you to sit down at the table and put your hands under a small white canopy. Once your hands are under the canopy you will notice that blue light will come on. This blue light is the UV light that will help dry and seal them faster than usual. Usual the time it takes to dry the gel under the light is anywhere from 5 to 7 minutes. You saloon technician will tell you to check to see if your nail dries by touching them. If they are still tacky you are asked to put your hands back under the dryer for a few more minutes.
Using a light dryer can save the clients lots of time and worry over smudging the gel polish. Using a UV light dryer is a painless process that only takes a few minutes to make sure that your gel polish is completely dry before leaving the salon. A few extra minutes will help ensure your new manicure will last until your next appointment.
Nail Polish Tips:
Nails take the consideration of creators and innovators throughout the entire year. Top of the line brands accompany a few dispatches each season, just to guarantee we have every one of the hues and plans that we want consistently. With all the nail hues and clean accessible in the market, which is the ones we ought to receive this mid-year?
Summer is the time you pick hues you'd stay away from the remainder of the times of the year. Startling, splendid, in vogue, neon… are on the whole descriptive words of the shades of your time at the pool and during celebrations and excursions. Go for hues that are less unsurprising; get some hot pinks, blue naval force, turquoises, oranges, metallic.
So what's the most recent in nail shading patterns? What is the most up to date summer nail expressions? Shouldn't something be said about the nail shapes and lengths? Here are some magnificence tips and thoughts. What color nail polish goes with my skin tone? Here are the tips:
1) Became flushed Shades:
Nail lacquer hues running from light pinks to sweet purples all prove to be useful this season.
2) Minty Fresh:
Light green join striking blue to feature summery days at the shoreline and fresh light cocktails. Remember the seafoam green, or what it is otherwise called blue-green that looks delightful on characteristic nails.
3) Melon to Earthly Feel:
Enduring from a year ago, oranges nudes still assume control over the nail lacquer hues world! Pick a dash of peach for a 70's vibe.
4) Most Favorable Nail Polish Color:
Exemplary reds, cherry reds, red nacre… never leave style! Reds are nail-shading staple regardless of what the season is. So on the off chance that you are dependent on red, pick cranberry red this mid-year.
5) Naval force Blues:
The black navy blue nail shading hits the market and accompanies much sparkle.
The new lacquers are ideal for the two fingernails and toes, and furthermore look extraordinary with changed outfit styles, for example, works of art and in vogue gems.
6) Best Nail Shapes:
This season, nail shapes don't need to be extremely tall and pointy to be charming. Short, square nails prove to be useful, particularly with dull shades, for example, dim naval force. Trim, commonly formed nails are additionally in design this late spring. They are best for naked hues and beiges. Adjusted nails are taking much consideration this year, as they are a hit from an earlier time, and they are best with dark nail shines. Long, almond-molded nails are not a need this late spring, yet they are required with red nail shines.
Conclusion:
With these products, I don't think it's a matter of one being better than the other. Currently, Shellac is better known due to CND's superior marketing. However, I do believe Gelish is more durable and better for people who are harder on their nails, the slightly longer last and the wider range of colors available is the reason I choose to use the Gelish product over Shellac.
[reviews number="3″ style="1″ categories="" source="latest" review_ids="" slider="no"][/reviews]
[latest_blogs number="3″][/latest_blogs]